On Aug. 9, 1997 for the first time in
Meher D. Amalsad,
former Gang members, local Community, &
LAPD Officers
joined together to declare an end to oppressiveness by "Holding Hands" and welcoming goodness in their lives.
Meher Amalsad highlighted the event dubbed "Hands around our community" by speaking about the importance of love, light, and positive aspects of life.
The following is a pictorial album of this event.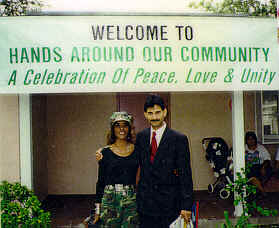 Shirley Brown, Producer, "Watts Happening" on Media 1,
& Meher D. Amalsad.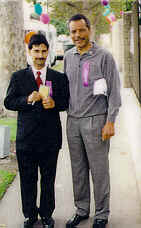 Meher D. Amalsad with Bernard Parks, Police Chief, LAPD.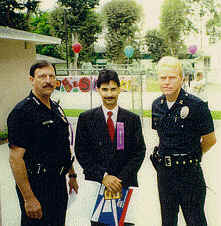 Bayan Lewis, Chief of Police, LAPD, Meher D. Amalsad, Thomas Lorenzen, Captain, Commanding Officer, South East Area, LAPD.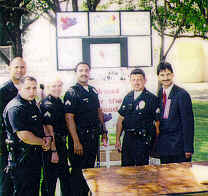 LAPD Officers, Kathlene Mathews, Dan Garcia, and Meher Amalsad with Armando Ramirez, Senior Lead Officer, LAPD, South East Division.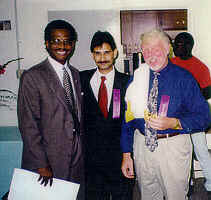 Charles Boyd, Program Director, Avalon Gardens Health Realization Program, Department of Recreations and Parks, with Meher Amalsad.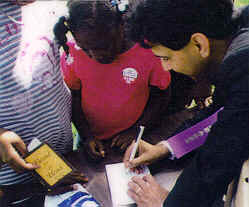 Meher Amalsad signing books for kids in South Central Los Angeles.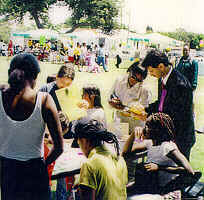 Meher Amalsad signing books for kids in South Central Los Angeles.



The following is a letter form Bernard C. Parks, Chief of Police, Los Angeles Police Department (LAPD):
Dear Meher D. Amalsad:
On behalf of the men and women of Southeast Area Community Police Station, I would like to express my sincere gratitude and appreciation for your active participation in the "Hands around our community" event which took place on Saturday, August 9, 1997 at the Avalon Gardens Housing Development and at Green Meadows Recreation Center located in Southeast community of the city of Los Angeles.
Your contribution to the community, your leadership in the replacement of graffiti on the wall of a local area business with positive statements from you book and your inspiring presentation to area residents during this event have helped to enhance the appearance and spirits of the residents of Southeast Area.
You made it possible for the participants of this event and the members of our community to benefit from your wisdom. Thanks for your contribution, the first "Hands around our community" event was a peaceful and successful event. Your support is appreciated by both the Department and the community.
Very truly yours,
Bernard C. Parks
Chief of Police
Thomas W. Lorenzen, Captain
Area Commanding Officer
Southeast Community Police Station


The following is a letter received from Officer Armando A. Ramirez, Who is a Peace Officer in South Central Los Angeles:
Dear Meher:
I want to thank you deeply for the many wonderful and generous things you have done and are currently doing to improve the lives of the people you come in contact with, either in person or through your wonderful life enhancing and life saving principles contained in al your work.
I have personally and professionally benefited from learning from the principles of your little book of wisdom titled "Bread for the Head TM". I have also learned and enjoyed listening to your recorded excerpts from the many radio talk shows where you have been invited as a featured guest speaker.
You have really opened my eyes to the wisdom that children have; and, you have taught me to pay closer attention to them and to learn from their natural wisdom and innocence.
After being exposed to your principles, I have begun to take just an extra moment to think about which of your principles applies to the particular situation I am faced with at any given time during my work or family day. This extra second of thought makes a tremendous difference in the outcome of how I decide to act or not to act. When I do this, my actions or my silent moments stand on firm ground as they are supported by universal truths which are self evident and unchallengeable.
For example, I now try to remember to treat people as "human beings, not as human doings." This helps me to forgive people, to see them as an equal and valuable being who may be "acting out of fear" instead of "being love," which is real strength and who they really are. I can then easily "focus on the best and let go of the rest."
I also really love the example you taught me about how when a candle is lit, it can effortlessly light up another candle, without losing anything at all! Both candles can then proceed to light up an infinite number of candles, and, not one of the candles loses anything by lighting up other candles! This was a powerful and amazing realization for me; and, I have shared it with others who have responded in amazement, just like me.
I firmly believe that many of the bad things which happen in our society today, happen out of a belief of lack and greed. It is an unfortunate belief which commands he or she who possesses this belief to think that he or she loses something by "reaching out" and that they gain something by "pointing out" to someone else's fault of misfortune, as though it had nothing to do with he or she who is doing the pointing.
If we could only understand that we lose nothing at all by helping someone else out. and that, just like the more candles we light, the more light we get, we too gain a lot by "reaching out" to help instead of by just "pointing out" their faults or challenges.
We could easily and more favorably address so many of the things which trouble all of us in society today, if only we would suspend our judgement for a moment; and, if we only made an honest effort to understand and apply this one little and powerful principle that you taught me. If we did this, our world would be a heck of a place in which to live!
I know that if I just keep reminding myself to find practical, everyday applications to your principles, I can learn to master them and to enjoy the fruits of the resulting higher state of being. Doing this will inevitably save me time and wasted energy in all my interactions, relationships and in my life in general.
The outcome of mastering just a few of your principles will be friendlier, more natural and flowing attitude in all my interactions with people and with myself.
Meher, I want to wholeheartedly wish you and your family continued success for the betterment of humanity.
Armando A. Ramirez
Peace Officer




© 2001 - 2021 by Meher Amalsad. All rights reserved.



© 2001-2021 All rights reserved.