Click here to help fund a program for the Los Angeles Unified School District

In the afternoon of 6th August 1997
in
South Central Los Angeles
Gang members, LAPD,
and Local Landlords, and Meher Amalsad took part in the new experimental to transform graffiti from tragic destruction to magic construction.
The following is a pictorial album of this event.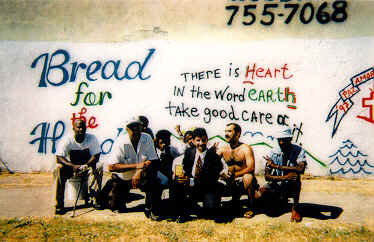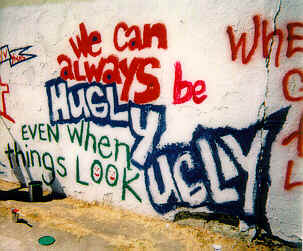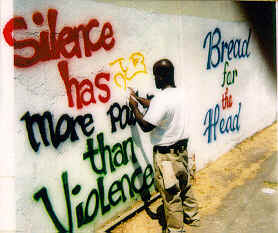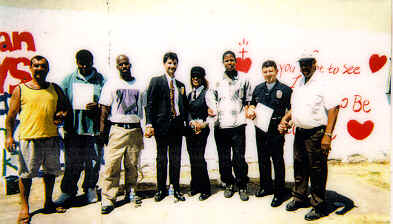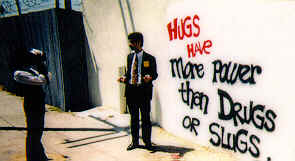 Location:
8823 S. Mettler St.
South Central Los Angeles





Endorsements from Gang members and gang related practitioners:
Bread for the Head has life changing inspirational thoughts which will provide a great service to your YOUTH.
Spencer Kovner, Past Board of Directors, Police and Businessman Council, & Hallenbeck Youth Center South Central Los Angeles, CA. (Spencer has dedicated 27 years working with youth who were gang members.)


We found your book uplifting because it focuses on lighting the candle instead of cursing the darkness, so that we can create unity within diversity in Humanity... Thank you for sharing the principle of Good Thoughts, Good Words, Good Deeds with us...
VietNamese Gang members, Counselors, Kids, Orange County, CA.


Bread for the Head has given me patience with my children and has taught me as well as my special friend to let go of the bitterness in our past relationships and concentrate on what needs to be strengthened in our present relationship.
Cleanna Talman, Gang member, Blood Gang, Eastside 89th Street Family, Los Angeles, CA.


Since I got the book, I carry it in my purse everywhere I go. I am doing this because when I find myself getting really upset at someone, I read this book and everything seems to fall in place.
Kimberly Davis, Gang member, Blood Gang, Eastside 89th Street Family, Los Angeles, CA.


The following is a letter received from Community Wellness Practitioner Training Program. Some names and details are withheld to ensure the privacy of the people involved:
Dear Meher Amalsad,
I met with gang members (-----) and (-----) in their late twenties, both of whom have been active gang members since the age of twelve. Both are considered to be "OG", Original Gangsters, meaning originators. Both stated that their gang involvement began as simply having fun, hanging around, and getting drunk, having others (their peers) to support them. "We all have each others back," to quote them both.
They are both members of Blood gang, (-----) family, which have merged with (-----) family. Because of the length of time they have been involved in the gang, they do have some influence over the younger members, and have expressed a strong desire to get involved with changing their lives and the lives of others. I gave them both copies of your book, "Bread for the Head". They promised to read it and write down over and over, at least twenty times, all that touches them.
They're looking forward to meeting with you, and having the opportunity to share their stories with you as well as the things in yours book that really touched their hearts. Both young ladies have agreed to attend the Invention Convention that is being held on August 29- Sept. 1, as well as the Health and Life Enrichment Expo on Sept. 27-28.
Enclosed you will find a small and simple profile of what life was like for there two young ladies growing up. It's as if they never had a real chance. My prayer is that, due to your efforts and the efforts of others like yourself who are motivated by unconditional love, change will occur and they will be given a chance in life, their creativity, and opportunities for their children, and our desire is to build a divine nation. Thank you for rising in love, light and life.
Queen Safisha, Founder and Director, Community Wellness Practitioner Training Program, South Central Los Angeles, CA


A letter from the Los Angeles Unified School District
Dear Mr. Amalsad:
I am please to inform you the staff of the Los Angeles Unified School District, Proficiency in English Program (P.E.P.) is strongly interested in your "Bread for the Head" Success and Self-Empowerment Program for inclusion in our school curriculum.
P.E.P. is mainly geared towards focusing on communication skills, critical thinking skills, career education, vocabulary expansion, self-esteem, self perception, affirmation and character building skills.
Your program fits well with the objectives of P.E.P. Your insightful messages not only get attention and enhance retention but also provide positive direction. They truly reflect the attitudes necessary for our scholars to become successful. We believe that your articulation of language through creative use of words will result in vocabulary expansion and critical thinking skills. It will eventually enhance social as well as vocational skills, which are essential for developing valuable life skills.
P.E.P. is presently serving 150,000 kids in 60 schools and is excited to have our children benefit from your program that together we can insure their success in positive endeavors.
Our next step is to work together so that we can procure funding through either federal/state educational grants or corporate organization sponsorship, in order to establish your program in our curriculum as soon as possible.
Thank you for sharing your work with me.
Sincerely
Terre Finley-Butler, Ph.D., Director
Proficiency in English Program (P.E.P.)



© 2001 - 2021 by Meher Amalsad. All rights reserved.



© 2001-2021 All rights reserved.